1. Reading Data
Assuming you have a document(in either csv, xls, xlsx, docx, doc, html or in pdf, well not a scanned one) which contains a table, you can read the file directly to a tidy format (let's refer the same as composed format) using read_cells like the following example:
Let's see how the file actually looks like
| | | |
| --- | --- | --- |
| Nakshatra | 12 | 1.5 |
| Titas | 16 | 6.0 |
Now we can simply run
| | | | | |
| --- | --- | --- | --- | --- |
| Weight | Nakshatra | Kid Name | Table_1 | 12 |
| Weight | Titas | Kid Name | Table_1 | 16 |
| Age | Nakshatra | Kid Name | Table_1 | 1.5 |
| Age | Titas | Kid Name | Table_1 | 6 |
Not a big deal for csv though. Also looks similar to
| | | |
| --- | --- | --- |
| Nakshatra | Weight | 12.0 |
| Titas | Weight | 16.0 |
| Nakshatra | Age | 1.5 |
| Titas | Age | 6.0 |
So what is this package is doing. Looks trivial right? But we'll look at some more complicated examples in following sections which perhaps may feel to you as non-trivial. So let's continue.
Note that read_cells is neutral to file extension which means if somehow .xls file is saved as .csv file, then also it will detect the underlying file correctly as xls and use appreciate function to read tabular information contained in the file.
However, support for each file types apart from csv is based on optional R packages. If you simply type read_cells() in the console, it will print which file types are supported and which package is potentially required for functionality, those are currently not available. If any package is potentially required, install the same and restart the R session to make that effective.
Here is a sample output: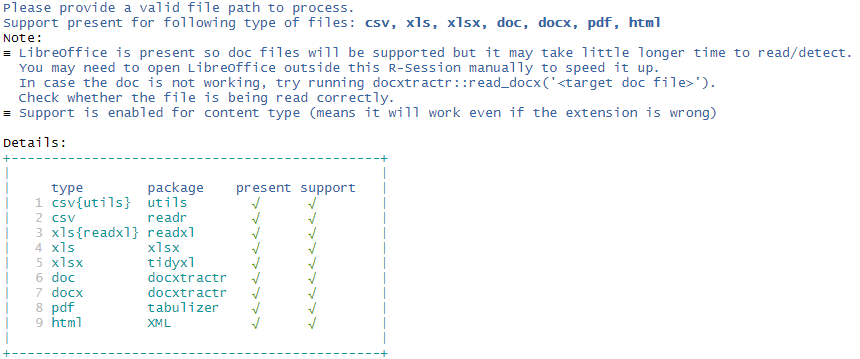 Well, this is like "I'm feeling lucky" kind of thing as told you earlier. If the final result is not what you are looking for, you may have to do some bit of extra work.
The function read_cells has a few layers or stages of processing. You can choose the stage to stop processing and give intermediate results. Then you may manipulate the intermediate result, tune it and finally again resume processing (or do it outside read_cells completely!).
Notice that read_cells can be broken into pieces like
Now to make you understand what you can do with intermediate results, let's explain to you other functionalities of the package and what are the steps followed by read_cells.
The flowchart of read_cells (which will make more sense once you go through following section)
3. Support for Multiple Formats
When coming to support for multiple formats (assuming you have all the required packages as specified by read_cells) you can run following set of command to test the multi-format support in read_cells.
Each file is with the wrong extension and the original extension should be the file name part before extension (intentionally created for testing this feature). Like for example, docx.csv is actually a docx. You can copy into some location where you have write access, then rename appropriately and open it to verify.
4. Interactive Modules
The package also provides shiny based interactive visualisations for understanding how the heuristic is functioning and also provides object (like cell-df or cell-analysis) editing capabilities.
The shiny package is required for these functions. Most of the features are self-explanatory and guided. Check out interactive documentation of any of these functions listed below. All of these functions are available as RStudio Addins. Here are screenshots of each interactive widgets.
Plot tune (part of all modules)
visual_crop() for data crop and deletion of sections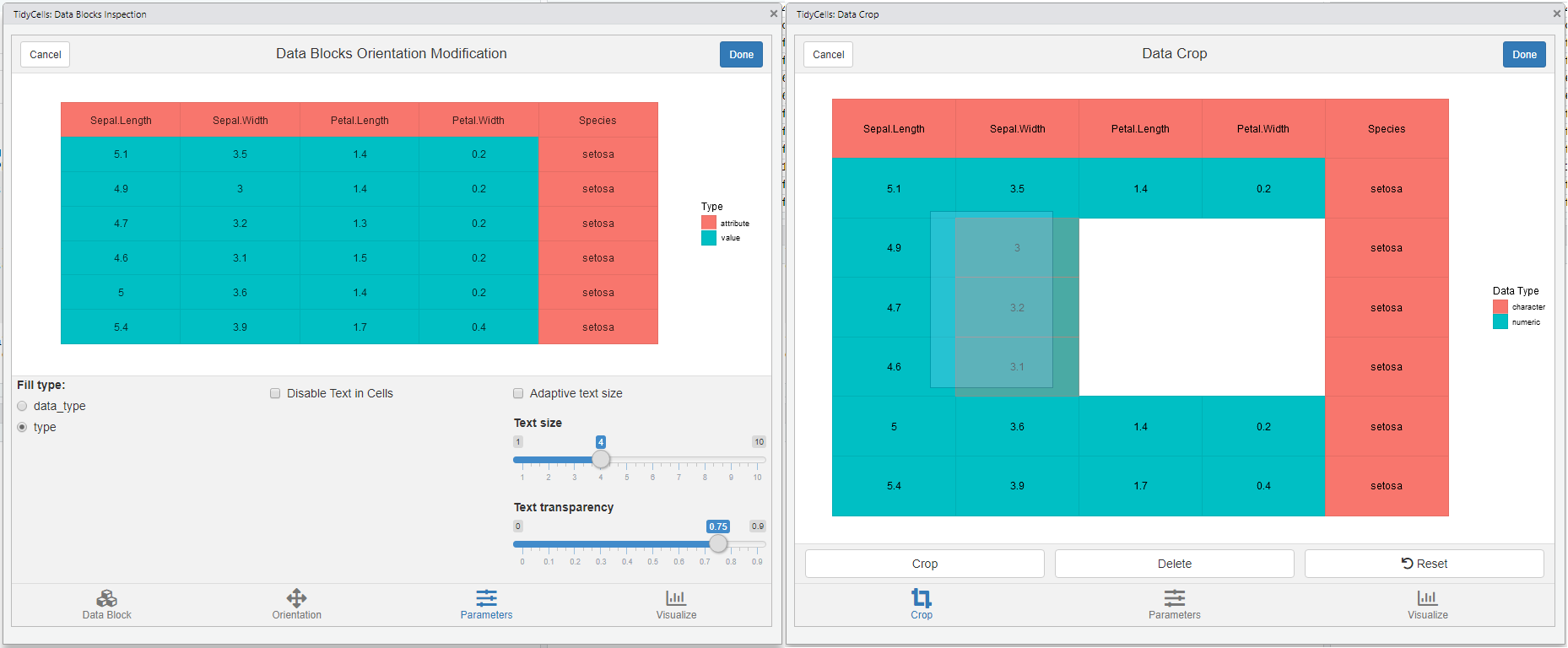 visual_va_classify() for interactive VA classification
visual_data_block_inspection() this shows how the heuristic has performed the analysis after analyze_cells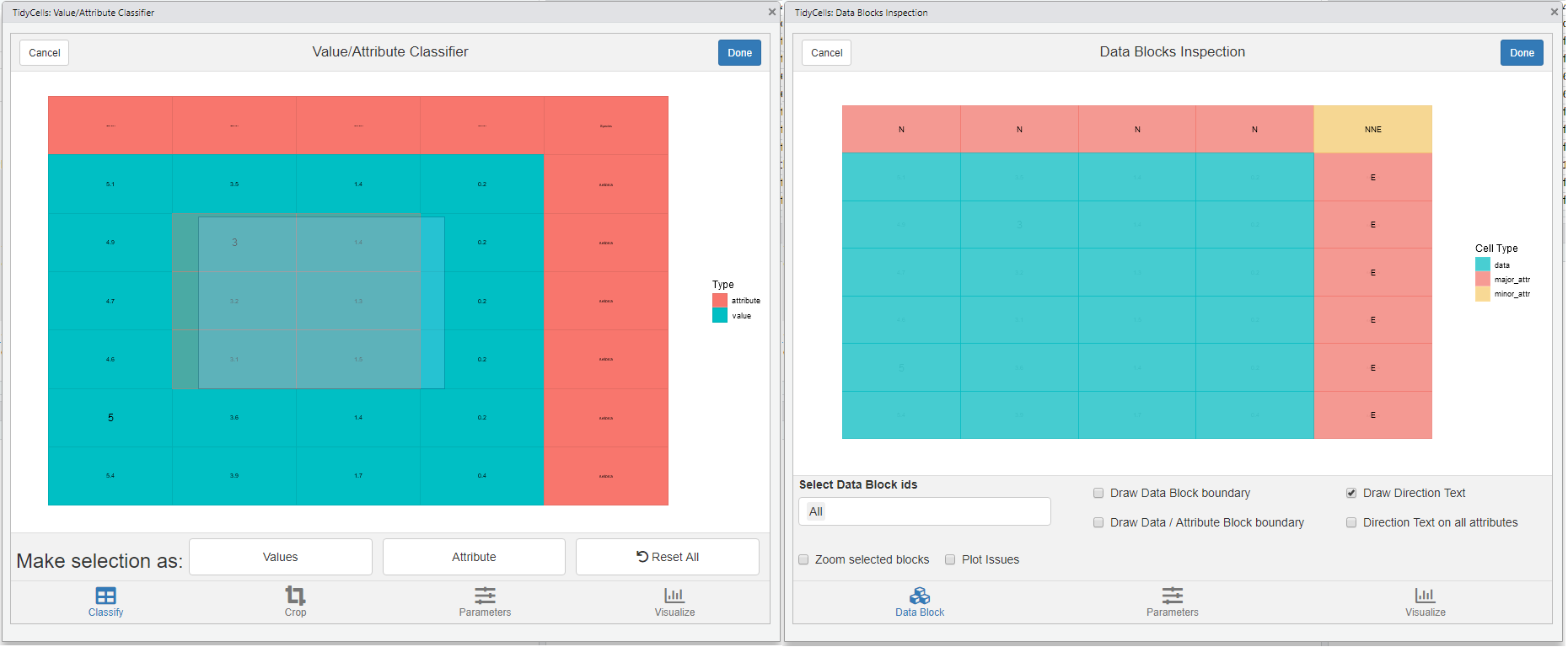 visual_orientation_modification() for modification to heuristic based results
visual_traceback() this is for observing how the original data is composed to form the final output. (compose_cells is called internally)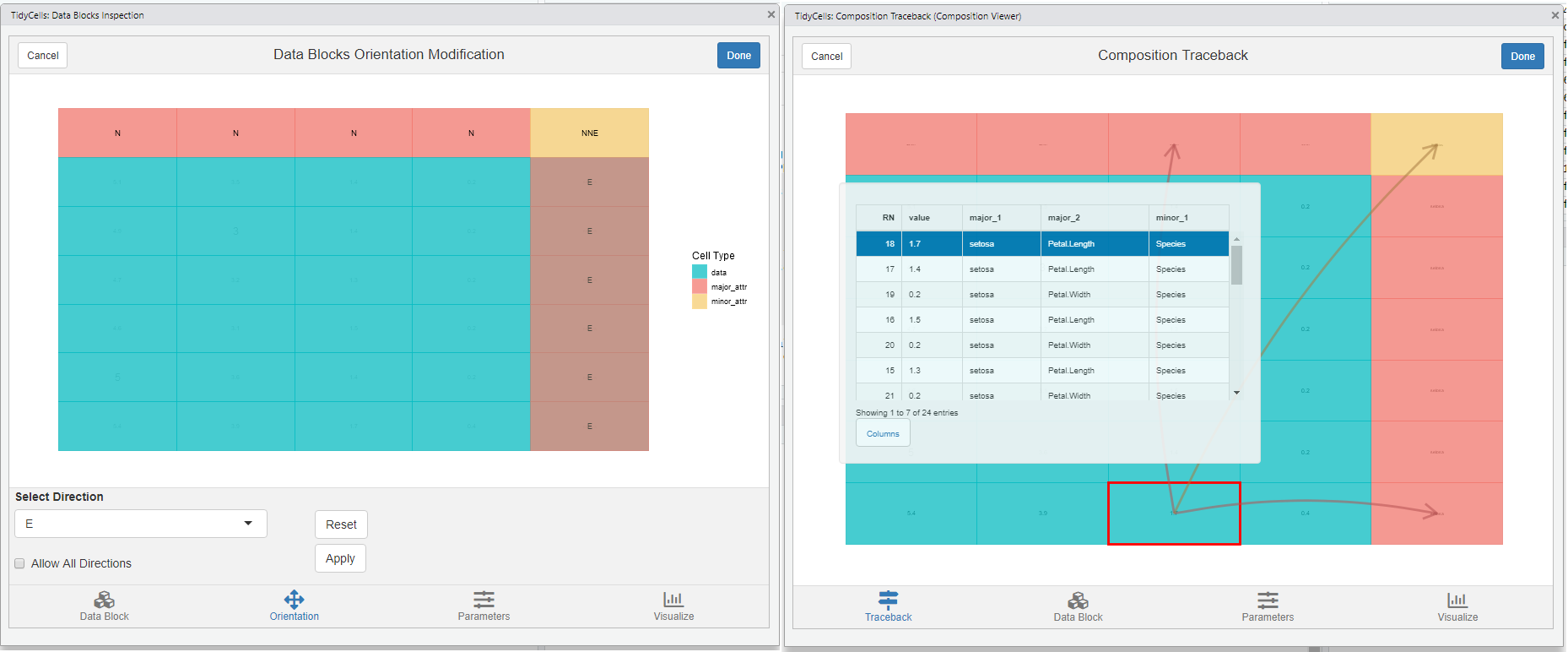 For each of these modules, there is a dynamic plot option available from plotly. If you have that package the corresponding tab will be activated. Since all of these modules are entirely optional the dependency is kept at tidycells 'suggests' level only.